In today's legal industry, technology is essential to law firms' efficient and effective operation. Lawyers' technology has played a significant role in the transformation of the legal industry, and it is expected to continue to play a major role in the future. It helps to improve the practice of law firms, from digitizing and automating paperwork to assisting lawyers in staying organized and efficient.
Digital process automation tools can help lawyers reduce the time it takes to complete tasks, such as filling out forms or filing paperwork. They can also help lawyers better manage their case files and track their progress. This software family helps lawyers manage electronic evidence, including the communication with their clients, interchanged documents, recordings, photos, and videos. It can help attorneys review, share, discuss and analyze this information quickly and efficiently.
This post is divided into 4 main sections:
The Importance of lawyers' technology.
Digitization could also be counterproductive.
Digital Process and Workflow Automation.
Conclusions and next steps.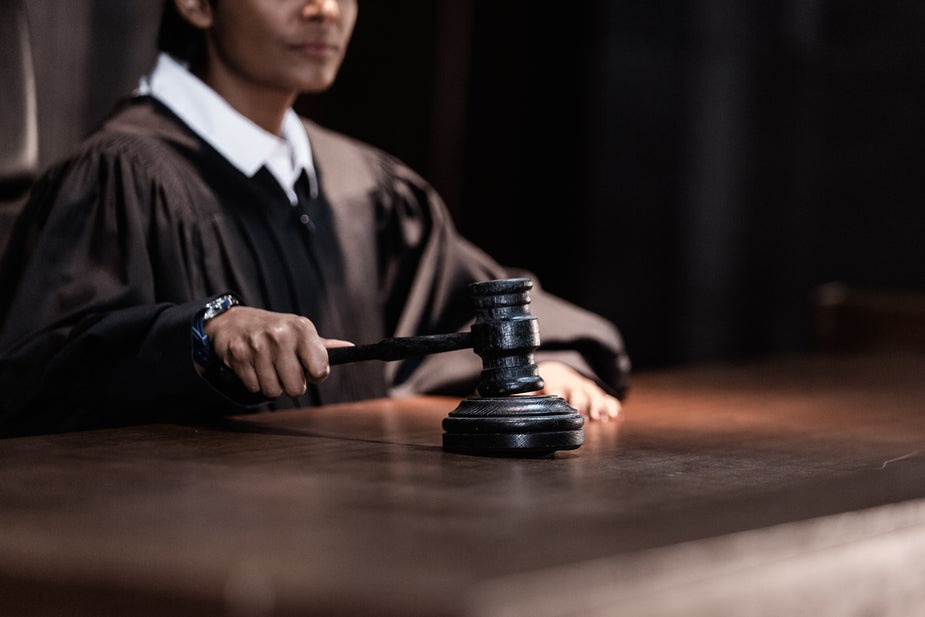 Lawyers' technology importance
The digital revolution has brought about many changes in the way businesses operate, and law firms are no exception. The introduction of digital processes and workflow automation has made the legal profession more efficient and effective. However, there are some concerns that digitization could be counterproductive. We will talk about these potential drawbacks later.
Law firms are increasingly adopting digital processes and workflow automation to improve efficiency and productivity. This is because these technologies offer several advantages over traditional methods, including improved communication and collaboration between employees and greater flexibility in working.
Since the Covid pandemic, all these elements have been combined with the need for remote working. The "Work from home" era also brought asynchronism. For example, being able to perform tasks in a team without working at the same time as my colleagues. These characteristics forced legal firms to adopt different work mechanics, supported by new technologies that allowed the asynchronous and delocalized work. Lawyers' technology can (sometimes) make the remote team even more effective and efficient than the in-office pre-Covid way of working.

Digitization could also be counterproductive
Being a full digital lawyer could also be counterproductive. Moreover, a study from The Economist found that there are several potential productivity killers when you are a fully digital professional. One of them is digital distractions, like "what happened on Twitter in the last 15 seconds?" and checking social networks (Instagram, TikTok, Facebook, Snapchat, and the list keeps growing). It is easy to lose 30 minutes checking different apps when taking a brief break.
Another productivity killer is finding the information between several sources. For example, did I receive the document in an email? Or was it a WhatsApp message? Or was it directly uploaded to the DataRoom? Having an ad-hoc flow of information with different sources and storing places is a nightmare when you need this information to meet a deadline.
In short, the digitization of processes in a law firm is key to its efficiency and effectiveness. But not just in any way. Disorderly digitization leads to different but equally essential problems than manual paper-based work.
We will explore some concrete ideas to ensure that digitization is done with the right tools and practices.
Digital Process and Workflow Automation
Digital processes and Digital processes and workflow automation have revolutionized the way lawyers work. Lawyers can focus on more important tasks by automating certain tasks and raising alerts before due dates, which makes the several processes of law firms more efficient. Digital processes also make it easier for lawyers to collaborate with others in their offices. Attorneys can complete their deliverables quicker by using digital tools to write, share, comment, and revise documents.
Example 1 – Know your customer.
Analyzing a customer before contracting with them can be time-consuming if done haphazardly. An automated process can ensure that the most important steps are completed, all relevant documentation is gathered, and extra information is requested in the case of a Politically Exposed Person (PPE). Then, naturally, all the results are recorded for future audits. All this while generating KPIs to detect bottlenecks and raising alerts when service level agreements (SLAs) are not met.
The following is an example of a "know your customer" (KYC) process, implemented with Flokzu's process modeler: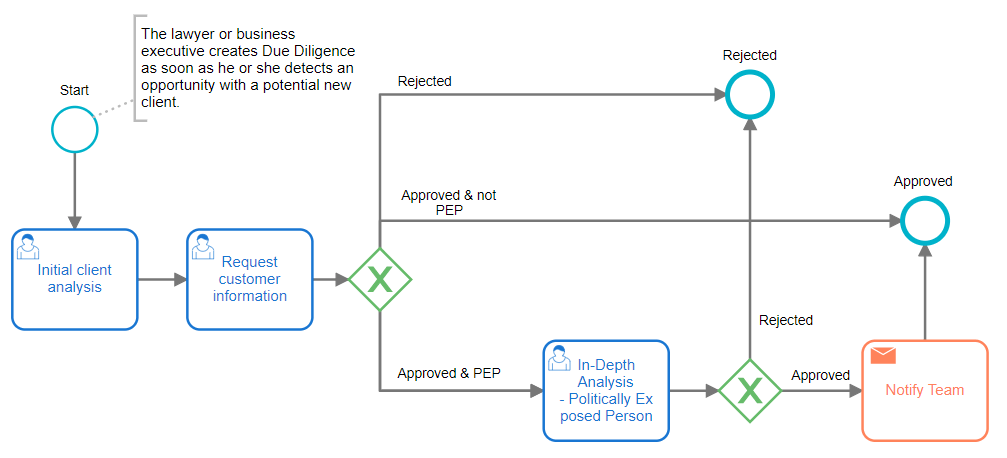 Example 2 – Deliverables for customers
The process by which customer deliverables are written involves several stages: from the initial drafting of the document by a junior lawyer, the subsequent review by a senior lawyer, eventually proofreading (spelling, grammar, corporate identity), to finally sending it to the client for approval. In addition, there is usually a back and forth with the client, and new versions are generated. Therefore, it is vital that the lawyers' technology stack stores each version, comment, and history. All of this is possible with Flokzu, which allows you to define all the revision stages and the attached files with their versions.
Knowledge Management
Once all deliverables are in a single system (and not scattered among mail, WhatsApp, data-room, or file system), we can manage and leverage it. Moreover, Flokzu includes an advanced document management system with simple and advanced searches to retrieve and reuse the knowledge available in the studio.
Example 3 – Service closure and invoicing
At the end of the services, you probably need to complete certain formal steps to close and invoice it. Usually, the lawyer wastes a lot of time in these tasks, where he does not add value. An automated process is a lawyer's technology that will allow that once the lawyer instructs to close and invoice, different tasks will be triggered to the administrative managers to be completed. And all of them with the corresponding service level agreement.
Conclusions and next steps.
There are many benefits to using digital processes and workflow automation in the legal sector. In particular, lawyers' technology can make a big difference in productivity and effectiveness. For example, these systems can streamline the process of filing documents, keeping track of case progress, and automating communication between lawyers and their clients. Additionally, automated systems can help attorneys better understand case data and make more informed decisions. Rising alerts when due dates and service level agreements are not met is another Flokzu key feature to improve the operations of legal firms.
This is enormously useful but inapplicable without low-code technology that allows these processes to be implemented quickly, with meager costs and immediate results. However, Flokzu will enable lawyers and administrative (non-IT) users to configure their workflows and put them to work without complex configurations. In addition, it will be possible to introduce changes and evolve those processes when necessary. And it will happen eventually!
At Flokzu, we are always ready to help you get started, so schedule a call with a process expert, and together we'll find the solution you need.